Sabrina Antonelli
---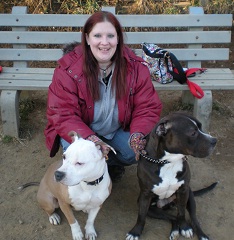 Ever since Sabrina was a child she loved animals and was rescuing at a young age. She brought home stray and injured animals to keep as pets or nurse back to health. Word of mouth traveled through family and friends and soon people were calling her for help with strays or medical problems, or bringing her found kittens that needed nursing and eventually a home. She never said no or turned anybody away even if she was overwhelmed with the cats she already had. She knew she needed the help of volunteers and financial help from donations so she got the idea to form a rescue group. For years, her dream has been to have her own nonprofit animal rescue and came close to achieving that dream in 2009. Much time and energy was put in to starting a dog and cat rescue with her partner at the time, but due to circumstances beyond her control, it became impossible to continue. Now Sabrina is starting over on her own, with the help of her friend and fellow vet tech and rescuer, Christina, who she met working at an animal hospital in Suffolk county. For years she have been rescuing on her own with her own money, but it is very difficult for one person, so with the help of Christina and some dedicated friends, she started Destiny's Hope Cat Rescue, inspired by her daughter, Destiny.
Sabrina's own animals have all landed in her lap by a twist of fate. They include a pit bull named Gravity, an Australian shepherd named Fluffy and a few personal cats and the rescued cats that are up for adoption, but treated as members of the family and living in a house setting. This makes them more social and the transition to a new home will be faster and easier for them. Sabrina's dog Gravity was dumped at the Islip town shelter and picked up by the Suffolk Community College Veterinary Technician program where she was spayed and vaccinated. The dog was destined to return to the shelter which was full of pit bulls, many who do not get adopted and are euthanized. Sabrina adopted her, saving her life, and she is a wonderful pet. Fluffy was an unwanted dog who was surrendered to an animal hospital when her owner could no longer care for her medical conditions and energetic personality.
in her limited spare time, Sabrina participates in the trap, neuter, return program to help reduce the number of feral cats being born. See our section on TNR for more information. Sabrina traps neuters and returns feral cats from local people who ask her to help them as well. She and Christina also volunteer for all day spay/neuter of feral cats marathons doing surgical preparation and assistance.
Sabrina's daughter Destiny has been involved with the animals since she was able to walk and has inherited Sabrina's love for rescuing. Destiny helps with the cats and her creative nature has helped form the rescue logo and t shirts. Rescuing animals takes a toll on the person's emotions and Sabrina has gone through some tough times. When life is difficult and she loses her motivation, Destiny and the cats inspire her to keep going. The reward of seeing a neglected, sick cat turn into a happy family pet is worth it. Nothing would make her happier than achieving her dream of Destiny's Hope getting approved by the state for a 501c3 nonprofit corporation. This would be the culmination of years of hard work and the dedication of family and friends who have helped her, so please join Destiny's Hope for our fundraiser or donate to our cause so Sabrina can keep rescuing and provide the best care for the cats who come to her.
Christina Pulschen
---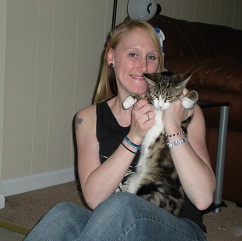 The first thing Christina wanted to be when she "grew up" was a veterinarian. As she grew older, her love for animals only increased until the time when she realized that being a veterinary nurse was better suited for her. She loves the hands on treatment that is needed for a job like a veterinary technician. She can provide my patients with comfort and love as well as the medications he or she needs. She currently works at an animal hospital on Long Island, NY, and her favorite area of her work is emergency and critical care. She has three dogs, two Dachshunds and an American Pit Bull terrier. One dachshund she adopted from a shelter she was working for at the time, her other dachshund was adopted from a kill shelter upstate when he was 8 years old. She knew he had a medical condition, but did not find out what an exam revealed a liver disease and diabetes which resulted in glaucoma and him going blind. He is much loved now and has a great life and acts like a healthy dog. Her pit bull was found as a stray in the city by a woman who volunteered for a cat rescue. He was about 5 years old and a male, and had a wonderful temperament despite his large size and tough, intimidating appearance. He was found to have been neglected for some time, with bones sticking out everywhere, worms, a poor hair coat and damaged knees. Multiple surgeries were needed for tumors that came up. Shortly after the last one, he was found to have a large tumor on his spleen and had surgery to remove it. Not long after that, he was diagnosed with a tumor on his liver than ruptured and was bleeding into his abdomen. Christina was told he would only live two days, but it has been over a year and he is doing great and added to her growing faith in rescue. Christina also likes small mammals, or "pocket pets" and has rescued guinea pigs, hamsters, rats and rabbits that needed homes in the past. She now had three hairless rats and a fish. Christina's personal experience with her own animals has made her believe in rescue more than ever. She is reminded of her own animals when she is presented with a rescue that is ill, and wants to give every animal a chance. She believes they realize that if they make it through, they will have a wonderful home and they fight to recover. Animals are her passion in life, they have helped her through some horrible situations and will always be there for her, and she wishes every person has that comfort. That is why she does rescue.