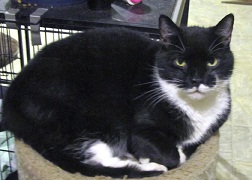 Oreo is a male neutered cat about 14 years old. He is currently hyperthyroid and has IBD. He is a special needs senior on medicine.
He was once taken well cared for but due to the current economy, many people are finding they no longer have the finances to be able to care for their pets properly. Not many placed will take in adult cats with the promise they will not be euthanized, and people are abandoning their pets in hope someone will find them and take them in. Oreo's owner abandoned him in a carrier outside an animal hospital in the middle of the night. He could have escaped the carrier and ventured onto the busy Jericho turnpike, or gotten lost and been unable to find food or become prey to a larger animal. He has no survival skills, being an indoor cat, and is very lucky the overnight hospital staff found the carrier. Inside was Oreo, and his sister, Mia. Mia has been adopted, but Oreo is still at Destiny's Hope.
Oreo is very friendly and affectionate with people, and chooses them over the company of other cats. He likes to lounge around and find his way to trick people into petting him when they're busy, and likes to sleep as close as possible to his human. This is a cat who will want to be by your side and being pet constantly. He tolerates other cats but wants all your attention to himself. He is neutered and vaccinated and ready to go to his new home at any time.