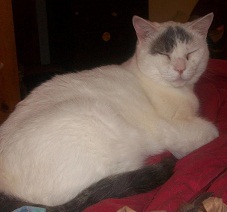 Hector is an older adult neutered male 13 years old Domestic Shorthair. He has had a very difficult life before coming to the rescue. About two years ago, one of the members of Destiny's Hope moved into a Brooklyn apartment. Within the first few days, she realized the apartment next to her had been abandoned, but when it was quiet she could hear a cat crying desperately. She gained access into the apartment and found a horror of neglect. Every inch of the rooms were covered in feces, there was no heat in the middle of the winter, no food or water, only empty dishes scattered around. The apartment had not been lived in by its elderly resident for months, yet supposedly a family member had been leaving food and water every few weeks. Immediately, Hector appeared, running out to the first person he saw and looking up and crying. Another cat, a black adult male was found as well, hiding under a torn couch. They were both skin and bones, dirty, and ravenous when offered food and water. Hector requires daily eye medication because he has chronic eye infections and discharge.
Hector and Coffee were rescued and came to Destiny's Hope for rehabilitation. Hector and neutered and rotten teeth were removed to alleviate his mouth pain. Coffee was also neutered and had rotten teeth removed. Soon after arriving, the geriatric Coffee was found to be in heart failure and was suffering. He died peacefully having spent his last few days in a loving home.
Hector is now a feisty man, who is big and healthy, nothing like the dirty, starved cat forgotten in an apartment. He wants to be the king of the house, and likes attention on his terms. Having spent the majority of his life in seclusion with only his elderly owner and Coffee for companionship, he would prefer to be in a quiet home, with one or no other cats. He is not an easily adoptable cat and will take a special adopter to bring him to their family. For as long as he lives, he will have a home at Destiny's Hope.